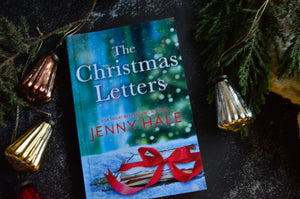 The Christmas Letter
Regular price
Sale price
Rs. 880.00
Tax included.
Shipping
calculated at checkout.
---
Sometimes, it takes losing everything to find what it is we really need. From the USA Today bestselling author of Coming Home for Christmas, with over one million copies of her books sold, comes a heartwarming holiday story that's perfect for fans of Sheila Roberts, Debbie Macomber, and Jill Shalvis.
Elizabeth Holloway abandons her New York party at The Plaza, her sparkling world crashing down around her when her boyfriend of seven years drops the bomb that he's leaving her—at Christmas. She suddenly finds herself seven hundred miles from her home in the city, trudging through the snow, back at her childhood farm in the Great Smoky Mountains in an attempt to piece her life back together.
However, she isn't expecting to meet visitor Paul Dawson with his dazzlingly blue eyes and warm smile, chipping away at her resolve to focus on figuring out who she is and what she really wants in life.
When her mother is informed that they don't actually own the farm that's been in their family for generations, the news makes absolutely no sense to either of them. Nan had married Elizabeth's grandfather at that house, and they'd lived out their years there.
But a stack of letters from Elizabeth's grandmother will change everything she thought she knew about her family and cause a divide between her and Paul that she never saw coming.
Under the glitter of Christmas trees and bundles of mistletoe, Elizabeth uncovers more than she'd ever thought possible. Will the Christmas letters strip her of everything she holds dear? Or will they be the biggest gift of the season?
A heartwarming holiday escape that will have you rushing to your loved ones this Christmas. If you enjoyed the Christmas movies based on Jenny's books and are looking for more feel-good, small-town romance, look no further!